At the moment most types of radioactive waste are stored where they were produced (the map shows where). Low level waste is transported to a disposal facility near Drigg in Cumbria.
Decisions about how to manage radioactive waste in the short term, need to be made with the knowledge of what we will do with the wastes in the long term. This is why we need to decide on long-term policy soon.
So far CoRWM has considered a list of 15 options for dealing with radioactive waste, and through consulting with specialists and the public, has narrowed this down to three options that each deal with all the types of radioactive material that CoRWM has to consider. These three options are described on info cards 4, 5 and 6.
CoRWM is also deciding whether to further assess a near surface disposal option that might be used for some short-lived or less hazardous radioactive wastes. Because CoRWM has not yet reached a decision, this option has not been included in this discussion guide. However Questions 1 to 6 in this guide are all relevant to the near surface disposal option, and your responses to them would be used in any detailed assessment of it.
You can find out about all the options and why some were not short-listed on the CoRWM website, www.corwm.org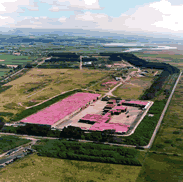 Low level waste is disposed of at a facility near Drigg in Cumbria. Image: BNFL

Map showing location of UK radioactive waste